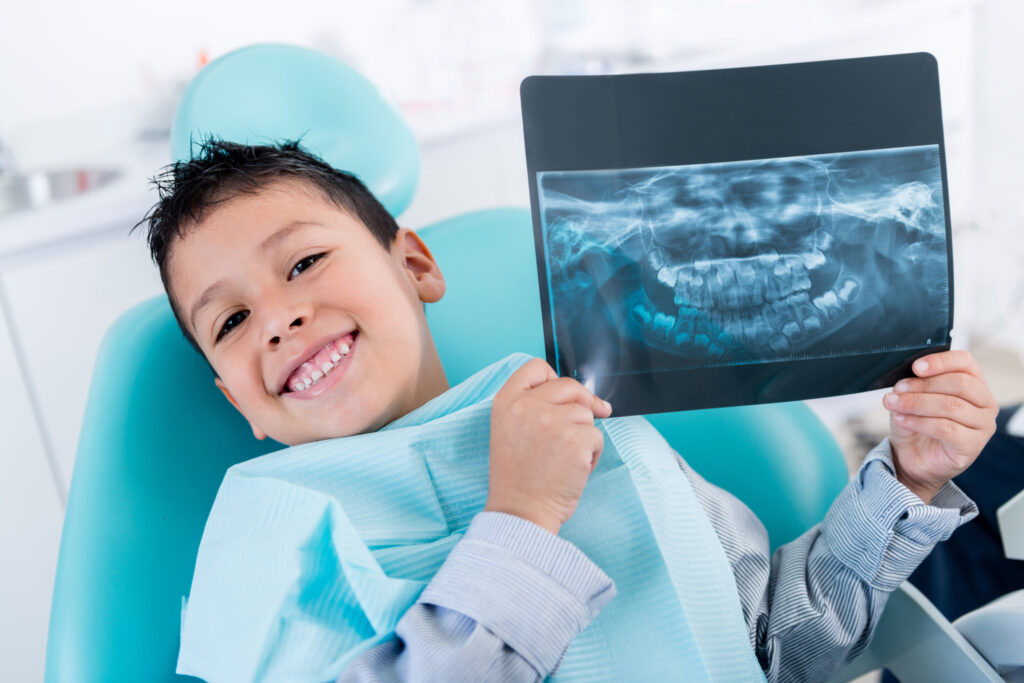 X-rays, or radiographs, offer valuable information that can't be seen with the naked eye. They can detect jaw and tooth abnormalities, tooth decay, and they offer a snapshot of one's dental history.

For your child, they can show incoming teeth that may pose a problem in the future and help avoid expensive treatment later.
A dental x-ray is one of the safest imaging procedures available with the American Dental Association (ADA) noting that exposure from dental x-rays "represent a minor contribution to the total exposure from all sources, including natural and man-made."
For children, the Food and Drug Administration (FDA) recommends the lowest exposure possible, and to always weigh healthcare needs against risks, however small. Here is what our pediatric dentist in 20003 needs you to know about getting dental x-rays for children.
Why Does Your Child Need Dental X-Rays?
X-ray imaging allows our team to prevent problems by addressing the cause early. Rather than waiting for excessive tooth damage to become visible, a radiograph can identify it before it becomes painful.

It can also show the development of wisdom teeth, tooth crowding, genetically missing teeth, bite problems (malocclusion) and more.
What are the Risks of X-Ray Radiation?
Excessive radiation exposure has been linked to increased cancer risk, but not all radiation sources are the same.

It matters greatly where the radiation is coming from, how much a person is exposed to, and for what length of time. X-rays have not been shown to present a significant increase in cancer development when used responsibly.
Comparing X-Ray Radiation Exposure Levels
When this technology was discovered in the 1890s, it took 25 minutes to get one x-ray exposure, offering dangerous doses of radiation. As you can imagine, the technology has evolved significantly since that time.

The exposure time for a modern x-ray is mere seconds and carefully aimed at the treatment area. Consider these federal government statistics:
It would take well over 1000 panoramic x-rays of your mouth to equal one CT scan
A panoramic x-ray of your mouth is only half of the radiation you're exposed to on a seven-hour plane ride, or two to three days of natural exposure
Four routine, intraoral images present about the same radiation exposure as a two hour plane ride
New X-Ray Technology Presents Fewer Risks
New types of x-rays present an even lower radiation exposure, according to federal nuclear agencies. Digital x-rays operate much faster than traditional radiographs, shortening the exposure.

Similarly, a cone beam 3D imaging essentially takes many images simultaneously to create a comprehensive 3D model of teeth, jaw, and surrounding structures.
We Put Your Child's Safety First
While even traditional dental x-rays are considered safe, our dental office takes every measure possible to keep every patient safe. State regulations set exposure limits, and we will never exceed them.

Our experienced team is trained to use all of our equipment properly. Patients, and some visitors, are provided a lead shield or bib for additional protection.
What You Can Do
Communication is key. If your child is a new patient, please provide their medical records so that our team knows about any previous medical imaging.

Talk with our dentist about any concerns you have. Together we'll ensure your child is treated in a safe environment.
The ADA and FDA agree that the benefits of x-ray technology far outweigh the risks. Our office strives to create an atmosphere where our guests feel comfortable and safe. If you have any additional questions about x-rays or other procedures, please contact our pediatric dental office in Washington, DC to schedule a consultation.
Capitol Hill Pediatric Dentistry
650 Pennsylvania Ave, SE, Suite 220